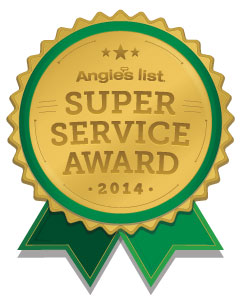 Indiana Residential is proud to be an Angie's List Super Service Award winner again!
So what, right? Well, we take great pride in our customer satisfaction ratings so it's a pretty big deal here at Indiana Residential.
The Angie's List Super Service Award honors excellence among service providers who maintain a superior service record. Each year, less than 5% of thousands of businesses earn the award, and Indiana Residential is one of those businesses. We hope you consider Angie's List feedback and ratings when you make your next hiring decision.
Just to be eligible for the Super Service Award businesses must Maintain an "A" Rating in each of the following areas:
Overall Grade, which averages all reviews received (3.5 GPA)
Recent Grade, which averages reviews from the last three years (3.5 GPA)
Review Period Grade, which averages reviews received since the previous November 1st to October 31st (GPA varies)
Must be in good standing with Angie's List
Learn more about Angie's List and the Super Service Award.