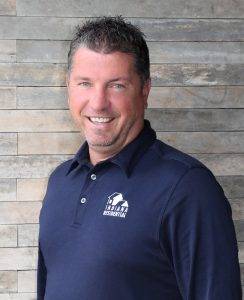 Meet Kelly, he is the Co-Founder of Indiana Residential and leads the roofing division, Indiana Roofing. Mastering the world of hot asphalt and shingles, Latimore specializes in roofing repairs and replacements; ensuring a home's resale value is at its highest. He is intimately involved in all aspects of customer relations from on-site Project Management, Fleet Management to preparing project estimates and safeguarding customer satisfaction.
Prior to forming Indiana Residential, Latimore owned and managed an investment rehab construction company that purchased, rehabbed and sold real estate properties to investors on the West Coast. His experience includes extensive hands-on knowledge of the purchasing process, construction management from beginning to end, and real estate transactions to the end investor. Kelly's deep understanding of construction and the real estate buying and selling process helped form Indiana Residential's innovative one-stop construction resource for real estate professionals.
Latimore holds a degree in Supervision Management from IUPUI. When he's not out there helping save the world (ok, your home but that's a pretty big deal), he can be found spending time with his wife and four children that range from Kindergarten to College age. With four kids that means a lot of his time is spent doing what they like to do, but he also likes to play golf and travel.
Kelly Latimore
800.601.4050 | Ext. 4
or 317.371.5032
Email Kelly