From floor plan restructuring to all new kitchen and baths, we said goodbye to 1960 in this lake house remodel. The entire house, located in Lake Maxinhall Estates in Indianapolis, Indiana was transformed into a new modern and functional space for the homeowner. This Lakeside neighborhood in Washington Township is a beautiful and mature Indianapolis community offering custom waterfront homes, making this remodeling project a great investment.
Too many updates were made to this home to list them all, but lets walk thru some of the big areas where you can really see this dramatic transformation.
Watch Remodeling Transformation
Kitchen Remodel
The dark dated kitchen was very small and enclosed away from the rest of the living space. Old rustic cabinets, black tile and appliances and laminate countertops had this space screaming for major attention. Who wants to cook and entertain in this dungeon?
BEFORE
Our remodeling team started by knocking down walls and gutting the structure to open up this space to the living and eating area of the home. New cabinetry, granite countertops, stanless steel appliances and restoration style lighting compete the transforimation.
AFTER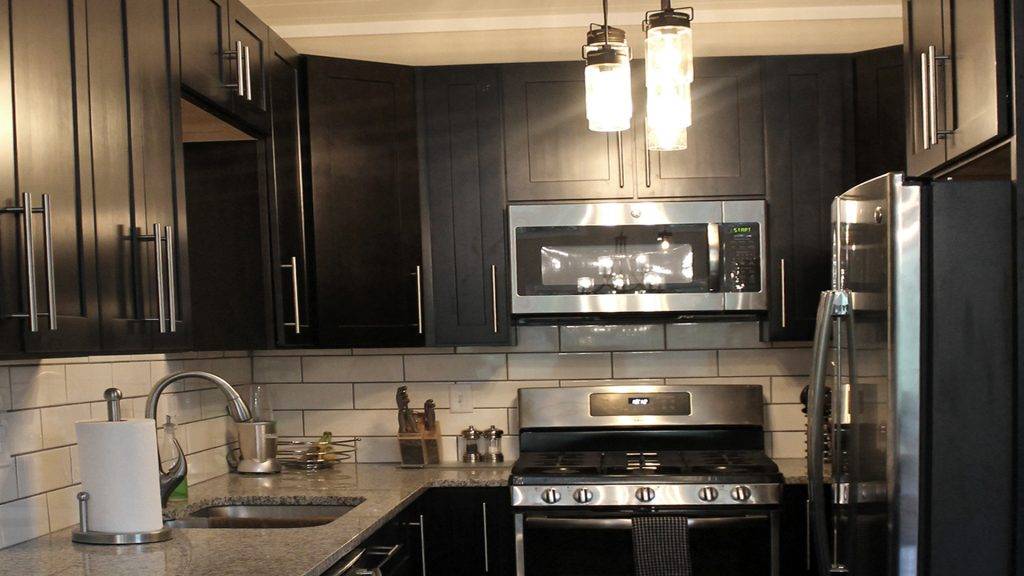 Creating Open Floor Plan
The main living area featured an odd entry way divider wall, dated lighting and deco style metal railings that divided the living area.
BEFORE
The enclosed kitchen walls were removed opening this area to create an island seating area now open to the dining space. The entryway divider wall was torn down making this all one open living space. The dated hand railings were removed and the stairs were remodeled to open up the living space. Fresh paint and new fans and lighting complete the open floor plan.
AFTER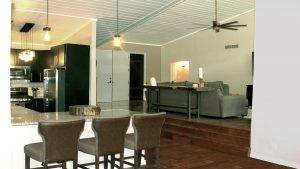 Door Replacement & Bedroom Addition
The exterior metal glass sliding doors were original to the home and were rotted and leaking. Off the living area was a festive study area with dated stained glass windows.
BEFORE
Our Indianapolis remodeling team enclosed the entrance to this blue study area, separating it from the main living area, creating a much needed extra bedroom for the homeowner.
AFTER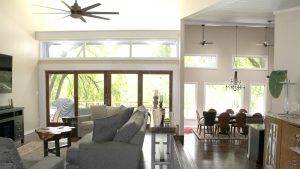 Master Bedroom Remodel
The master bedroom entrance area was odd and an unfunctional use of space with a dated vanity area just inside the door. The hall bath needed a complete transformation and accessibility opened up for easy access to the rest of the house.
BEFORE
AFTER
A new, more private entry was created to access the master bedroom by removing the vanity area and bumping back the entrance to the bedroom. This, in turn, opened up the hallway area outside the bedroom making way for a larger hall bath that was now accessible to the main living area. A wide window was added to the exterior wall of the hall to let some much needed light into this entryway space. The hall bath was enlarged and completely remodeled with new cabinetry, flooring, plumbing and lighting.
Office Remodel
Inside the master bedroom was a dark setting room/office area that was open to the sleeping area, complete with 1960's wood paneling.
BEFORE
Custom sliding barn doors were installed to add visual appeal and create a separation from the bed to this this office area. Paint, new modern built-in entertainment shelving with granite top, and new flooring complete the transformation of this unique space.
AFTER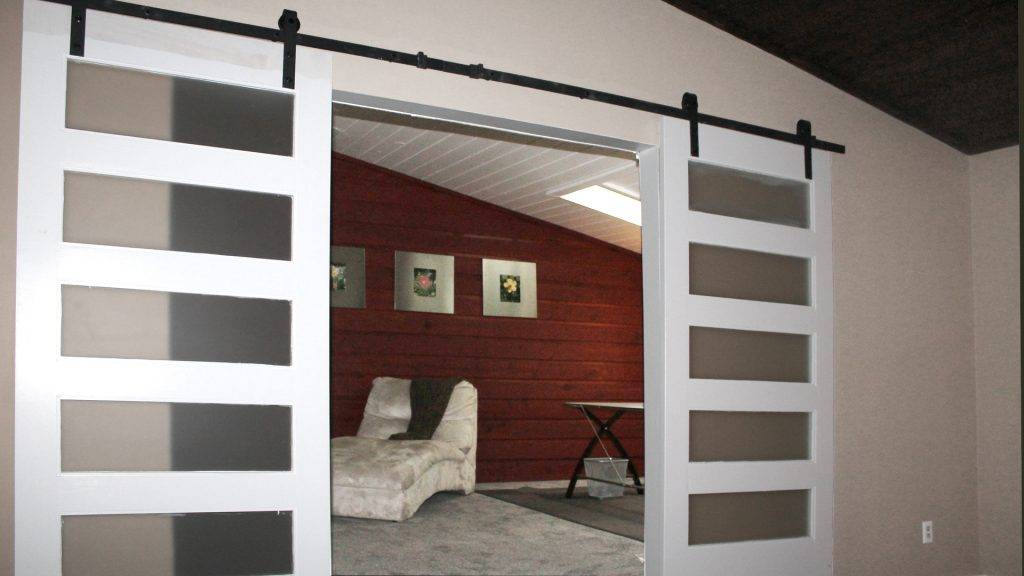 Bathroom Remodels
All five bathrooms in this home were screaming for a remodel. Original or dated lighting, plumbing, tile and flooring made these bath areas a big eyesore.
BEFORE
Four bathrooms were given an overhaul to make them clean and modern. Each bathroom was remodeled using white subway tile on shower enclosures, glass shower doors, wood look grey tile flooring, brushed nickel plumbing fixtures and vanity lighting, new toilets and vanities with granite countertops.
AFTER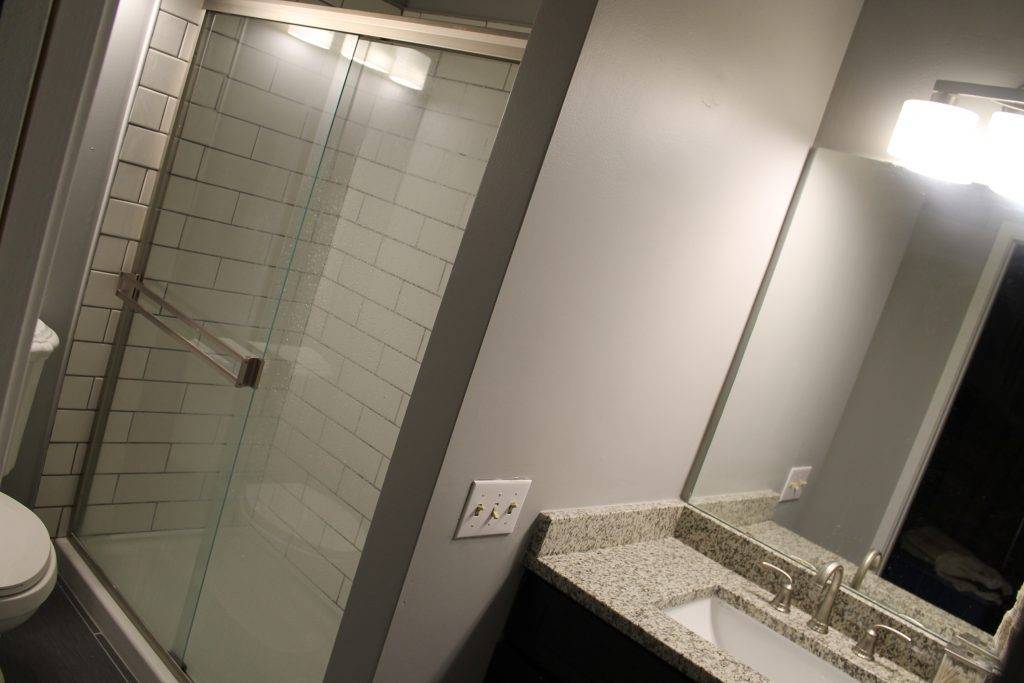 Are you looking at an investment property, or the purchase of a new home that needs a major renovation? We can work with you on the project from the very beginning and he you with all your remodeling needs.
About Indiana Residential
Indiana Residential is the original one-stop general contractor serving homeowners and real estate industry professionals in Indianapolis, Greenwood, Fishers, Carmel, Noblesville, Avon, Westfield, Zionsville and the surrounding areas. Our services include one-call inspection repairs, home remodeling and repairs, mold removal and put back, roof replacement and repair, kitchen and bath remodeling, and general home maintenance including painting, electrical repairs, windows and siding, plumbing repairs, and more.