More than Inspection Repairs.
Did You Know, We Fight Mold.
"The Mold Dogs[Indiana Residential Mold Team]did an amazing job cleaning the mold and installing mold prevention in my attic. They are professional, kind, and kept me updated throughout the entire process. If you're looking for a contractor for this service, look no further!"
– Ashton Moody, homeowner
CERTIFIED MOLD REMOVAL PROFESSIONALS
WHY DOES IICRC CERTIFICATION MATTER?
IICRC Certified Firms operate under the IICRC's standard of care in the inspection, cleaning, and restoration industries.
IICRC Certified Firms are known for their high level of technical experience and professionalism.
With the rapid increase in consumer calls due to the demand for cleaning and restoration projects, Certified Firms are working in the field every day. With unmatched expertise to complete complex projects, Certified Firms give consumers peace of mind that the job will be completed right the first time.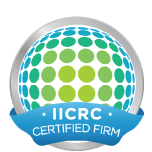 MOLD REMEDIATION SERVICES INCLUDE:
Visual inspections of any visible or suspect mold growth
Identification of Possible Mold Contributors. Humidity issues, water leaks, standing water, etc.
Mold Sample Collections & Testing
Mold Remediation Estimates
Estimates for Damaged Material Replacement
Crawl Space Mold Removal and Clean Out
Foreclosed Homes-Mold Removal
Basement and Attic Mold Removal
Crawl Space Vapor Barrier Replacement