We know you have lots of choices when it comes to selecting a contractor to replace or repair the failing or aging roof on your home. Below are a few great places to start to verify you are working with a quality resource for your home roofing needs.
Are they licensed, bonded and insured?
Do they have legitimate certifications and an office location for working in your city? *beware of storm chasers that are here today and gone tomorrow
Can they provide a guarantee on the work to be done?
Do they have real experience and references repairing/replacing/building roofs?
What you can count on with our roofing team…
We are a LOCAL INDIANAPOLIS-BASED ROOFER, our office is located here and will be here to serve you in the years to come
LICENSED, BONDED, AND INSURED and we stand by our workmanship and warranty
Owens Corning™ Preferred Roofing Contractor, an exclusive network of roofing professionals who meet high standards and strict requirements for professionalism and reliability
SCREENED & APPROVED Home Advisor Roofing Contractor, an extensive screening process verifyng businesses and business owners criminal background, licensing, state business filings, and ensurance that outstanding business ratings from clients are maintained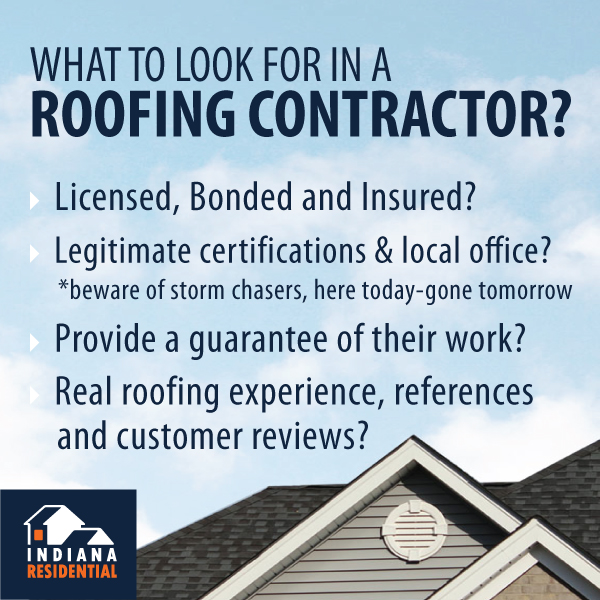 Contact us for a free roof evaluation 800-601-4050 | estimates@indianaresidential.com